Most organisations today understand the importance of offering employee benefits. After all, employee benefits have been shown to increase employee engagement, productivity and motivation, as well as act as a powerful tool in recruitment and retention.
Glassdoor's 2015 Employment Confidence Survey reveals that approximately 60% of people say benefits play a significant part in their decision making when considering a job offer. The survey also reveals that almost 80% of employees would choose additional benefits over a pay raise.
But today not just any benefits will do. Today, companies are having to rethink their benefits offering. In addition to offering flexibility around benefits, today's leading organisations understand the importance of providing unique benefits that help them stand out in the war for talent.
Benefits That Reflect the Organisation
Let's say, for example, you're a multinational company and one of your company values is sustainability. To reflect this value, you could implement sustainable mobility benefits across the board and across borders but with local variation. For instance, in one country, the benefit might be a bicycle subsidy, while in another it might be discounted public transport. With this approach, your benefits reflect the company values and help shape your employer brand on a global level but function on a local level.
Selecting Benefits Based on The Benefits Pyramid
The pyramid illustration you see here offers a simple model to start designing a strategic benefits offer.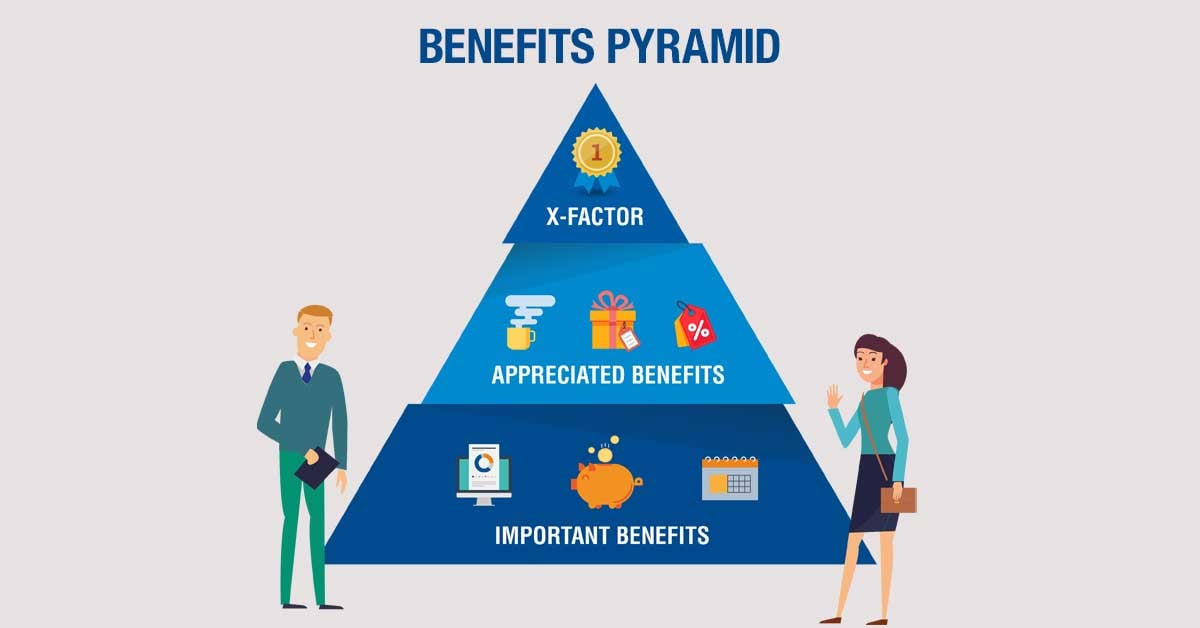 The base of the pyramid consists of benefits that today's employees most often take for granted, such as occupational pension and insurances. In the middle, you can see things which are often seen as "nice to have", such as lunch subsidies or massages at work. At the top of the pyramid, you should have something that is unique to your company and reflects your employer brand and values.
The sky is the limit in terms of what benefits you can offer. Below, we look at some examples of unique benefits and benefit models that some companies around the world are using.
Here's a Look at Benefits Around the World: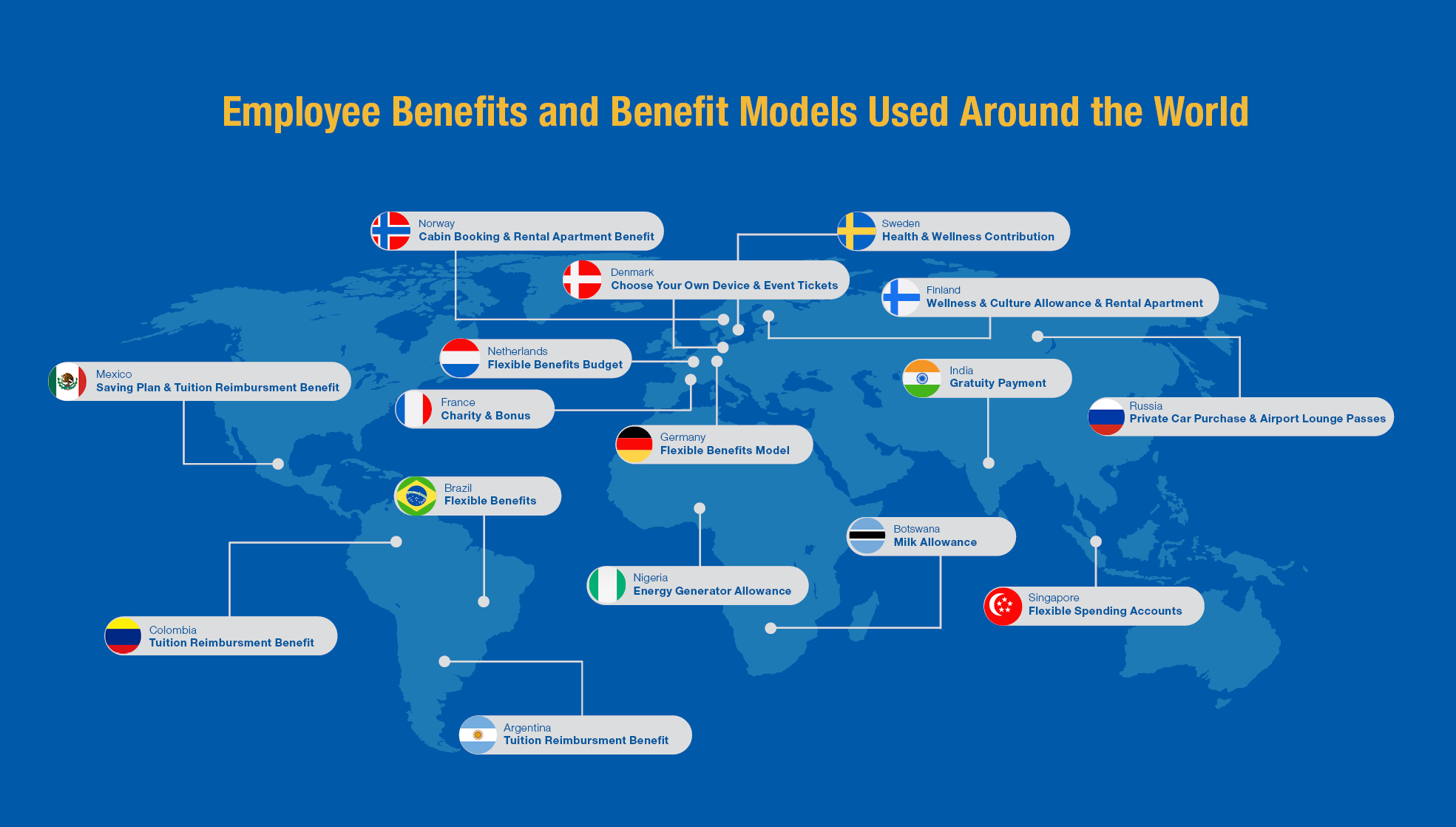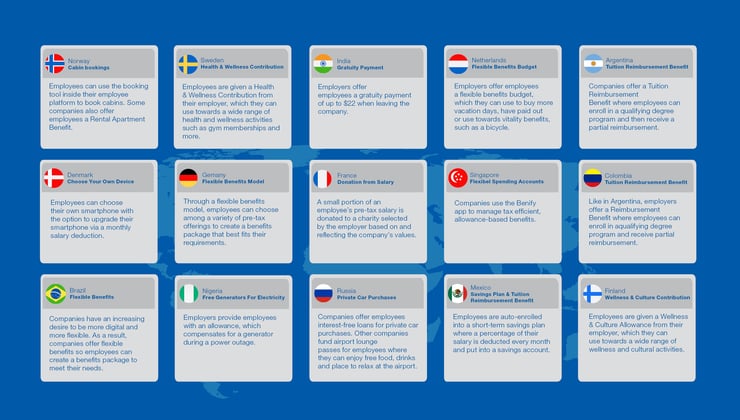 Finland – Employees are given a Wellness & Culture Allowance from their employer, which they can use towards a wide-range of wellness and cultural activities. Additionally, some companies offer employees a Rental Apartment Benefit. Employees find an apartment and then pay their rent via salary sacrifice.
Norway – Employees can use the booking tool inside their employee benefits platform to book cabins. Like in Finland, some companies also offer employees a Rental Apartment Benefit.
Sweden – Employees are given a Health & Wellness Contribution from their employer, which they can use towards a wide-range of health and wellness activities such as gym memberships and massages.
Denmark – Employees can choose their own smartphone with the option to upgrade their smartphone via a monthly salary deduction. Other companies purchase concert and event tickets, which are then offered free to employees.
France – A small portion of an employee's pretax salary is donated to a charity selected by the employer based on and reflecting the company's values. Other companies give employees a bonus of 1,000 EUR when the employee gets married or has a child.
Netherlands – Employers offer their employees a flexible benefits budget, which they can use to buy more vacation days, have paid out or use towards vitality benefits, such as a bicycle.
Germany – Through a flexible benefits model, employees can choose among a variety of pre-tax offerings to create a benefits package that best fits their requirements. Flexibility could be, for example, the choice of supplier or choice of mobility, e.g. bicycle, public transportation, etc.) or using a booking tool inside their employee benefits platform to rent a car.
Botswana – A milk allowance is provided to employees working in specific industries.
Nigeria – Employers provide employees with an allowance, which compensates for a generator during a power outage.
India – Employers offer employees a gratuity payment of up to $22 when leaving the company.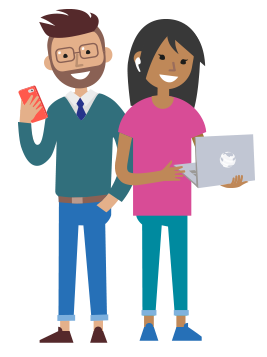 Colombia – Through a Tuition Reimbursement Benefit, employees can enroll in a qualifying degree program outside of work and then receive a partial reimbursement.
Argentina – Just like Colombia, companies offer a Tuition Reimbursement Benefit where employees can enroll in a qualifying degree program and then receive a partial reimbursement.
Mexico – Employees are auto-enrolled into a short-term savings plan where a percentage of their salary is deducted every month and put into a savings account. Additionally, like in Argentina and Colombia, some Mexican companies offer a Tuition Reimbursement Benefit.
Latin American Countries – Many companies offer voucher benefits such as meal vouchers, fuel vouchers, grocery vouchers. Employees are given a physical card which is topped up with money each month that they can spend in restaurants/gas stations/grocery stores and department stores.
---
Want to discover what benefits are most important to employees today? Download The Benefits and Engagement Report today!