A Total Reward Statement calculates, assembles and visualizes the total value of an employee's compensation package in addition to an employee's basic salary. This can include:
Benefits

Insurances

Pensions

Tax and fiscal contributions

Employer national insurance contributions

Any additional compensation (e.g. an employee bonus)



Total Reward Statements (also known as an employee compensation statement) are often provided annually by employers to their employees. They are often presented as a printed document or digitally for the employee to access online. A Total Reward Statement does not replace an employee's monthly payslip or annual salary summary.
How is Total Reward Statement used in the workplace?
Employers opt to use Total Reward Statements as part of an effective and sustainable employee communication strategy. In fact, Reward communication is essential for creating employee awareness and appreciation of their total reward. The statements themselves can be used for a number of different functions in the workplace, such as:
In order to boost an employer's ability to attract, recruit and retain its best employees. As the long-term benefits of a clearer total rewards communication go, this is usually the pick of the bunch. By visualizing and highlighting the full extent of an organization's total rewards strategy and flexible benefits scheme (either during recruitment exercises, onboarding processes or performance reviews), an employer will succeed in building a strong employer brand.



To cap salary inflation and reduce employee outlay. Often used by managers as part of performance, development- and salary reviews, a total rewards communication is effective in giving better value to an employee's existing compensation package. As salary costs become a larger part of an employer's salary outlay, it is important that modern employers find cheaper alternatives to accurately communicate existing total rewards, benefits and compensation packages to their employees.
Why is it important to show an employee's total rewards and compensation package?
A Total Reward Statement can offer an employee a better understanding of what they earn, what employee benefits they are entitled to and which pensions and insurances their employer provides them as part of their employment. When an employee is only able to see part of this offering, the true value of the employer's rewards package becomes lost. This leads to, what we call, a greater compensation gap.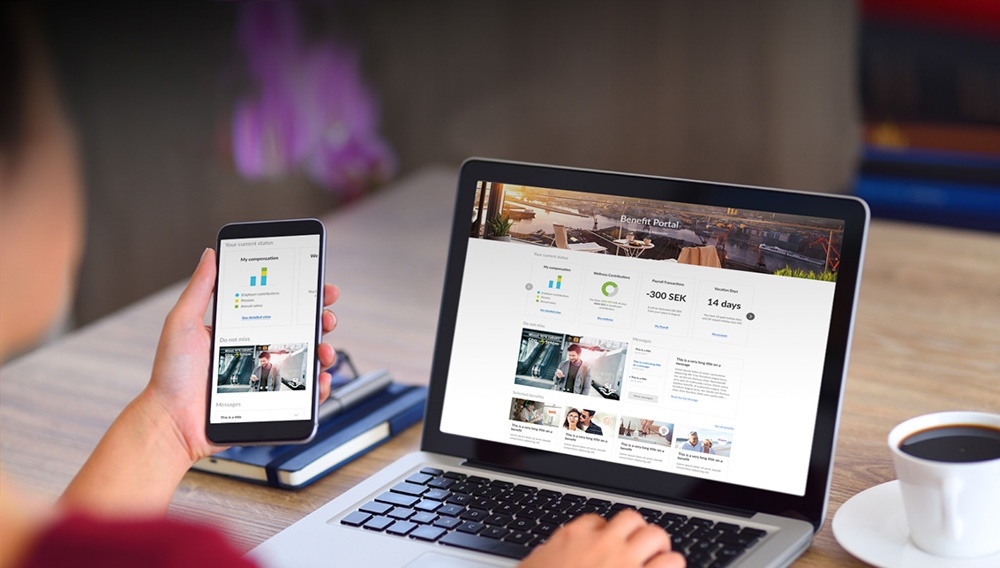 What happens when an employee does not understand their total rewards package?
At Benify, we discovered that as many as 80% of all employees continue to significantly underestimate the value of their employer's flexible benefits scheme and total reward offering – meaning that fewer employees will take advantage of any benefit, subsidy or insurance policy which may be available to them. Incredibly, the average employee will only see 67% of their total compensation.
Benify's recent compensation gap study also identified clear disparities across sector, age and geographical location. For example, those who work within salary and rewards, such as HR and payroll professionals, will correctly value their total compensation and rewards packages by up to 37% more than employees from other sectors. This leads more and more employees to resort to other options, such as online compensation calculators, in order to understand their total compensation. Again, this is why reward communication is essential.
How to calculate an employee's total salary and rewards
This is the tricky part. Employers often find that calculating and creating a Total Rewards Statement for each employee can be a time-consuming and arduous process – one which eats away at a lot of business time and expense.
To create an effective overview of total employee compensation and rewards – an employer must factor in a number of different variables. These variables may be specific to that particular employer, or they may be set and regulated through a national infrastructure (i.e. government tax legislation).
In addition to gross salary, a Total Reward Statement must factor in:
National tax models and employee tax parameters

Company subsidies, benefits and bonuses (e.g. wellness grant, employee car subsidy)

Occupational pension- and state pension models

National insurance models
Digitalising Total Rewards through data automation
Once an employer has created a model which factors in all of the relevant salary and rewards ingredients, it then becomes easier for the employer to automate benefits management to a broader audience. This becomes a simpler and cheaper alternative – meaning that the employer can duplicate each Total Rewards Statement, but with different variables based on the employee's situation.
---
Want to learn more about making your employees aware of your investment? Download our white-paper,
Total Reward Statement: Showing Employees Your True Investment
.